It is all about control.
Tenacity, blood, sweat and tears were required to build your successful business.  But when you outsource FINOP Services, you give up control.  You give up exactly what you  have worked so hard for – exactly what you need the most!  We can show you how to obtain the benefits of outsourcing and enhancing control.
Some outsourced FINOPs ask for your data and remotely run your back office.  When there is a question you go to them for your financial and operational information.  Or, you use QuickBooks and/or Excel.  If you are not proficient with that software, you have to go to someone else for information to make decisions.  Again, you have lost control.
BDOS-FINOP Services is totally different.  We provide BDOS software.  You get total control and reduced costs.
BDOS is a complete general ledger accounting system that captures your trades.  Then, BDOS uses your trade information to automatically:
generate general ledger entries for each trade
calculate rep payouts and clearing fees
produce the trial balance, balance sheet, income statement and p&l statement
generate the FOCUS IIA
do a Net Capital Computation for any time – past, present or future
generate the Supplemental Statement of Income
generate trade blotters and dozens of reports to help you make decisions
You provide a competent clerical person.  We train you and your person to operate BDOS.  The result is  an extremely productive back office that you control.  All your financial and operational information is available instantaneously.
With a few mouse clicks you:
receive payment from vendors
pay your reps
produce your monthly financial statements
create your FOCUS IIA and Supplemental Statement of Income
generate reports and have immediate information
Since your information is automatically generated by our software, we can provide proper remote oversight and be confident of your results.  Because you do most of the work, we can offer very competitive prices for BDOS-FINOP Services.
It Starts with the Trade
If you do not download trades, you should start.  If you manually enter trades to Excel, you should stop.  If you use QuickBooks to manually create general ledger entries you are spending too much time.  Manual entry of back office data leads to errors and lost time in resolving them.  We do not know what you do, but we can show you the best way to operate, manage and control your back office.
Consider an agency trade:
commission of $400
clearing fee of $16.00
rep payout (rep commission) of $303.20.
When BDOS processes that trade, the following general journal entries are automatically generated.

It is as easy as that, and BDOS does it automatically.  BDOS reads the trade and does all the debiting and crediting.  The time (and associated cost) involved with accounting software is eliminated.  And, as noted earlier, BDOS can be operated by a competent clerical person.
In addition, the trade is automatically recorded in your blotter.  Suppose the vendor was "Amazing Funds" your payout blotter, sorted by vendor, shows: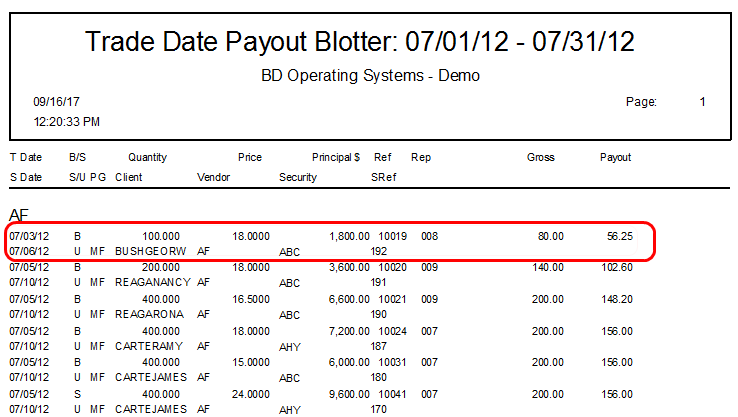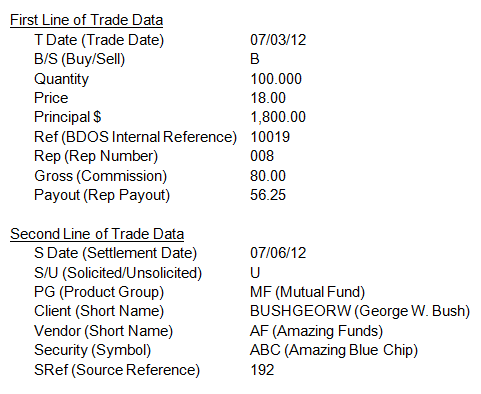 The Vendor Pays You
The BDOS general ledger contains trade related receivables arising from the Amazing Funds trades.  The next step is to relieve those receivables by receiving  payment from Amazing Funds.  You indicate the paying vendor (Amazing Funds), dates related to the payment, payment amount, any payment reference number (check number) and tell BDOS to "Get Data".  The receive payment form shows: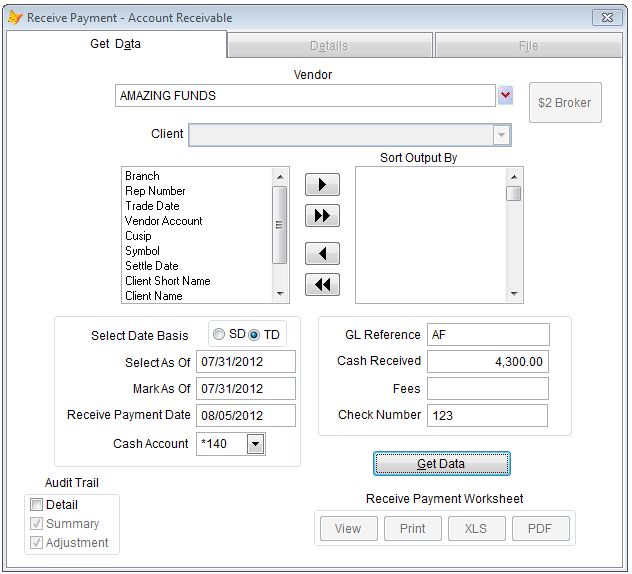 BDOS presents the trades for which it expects to receive payment.  BDOS reference 1009 and the corresponding George W. Bush trade for 100 ABC @ $18.00 is shown below.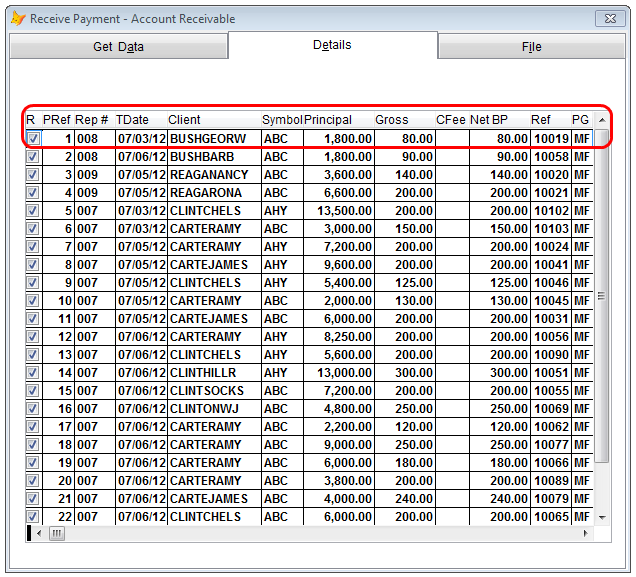 The user matches the BDOS information to the Amazing Funds statement.  When done,  the "File" tab is selected.  It shows: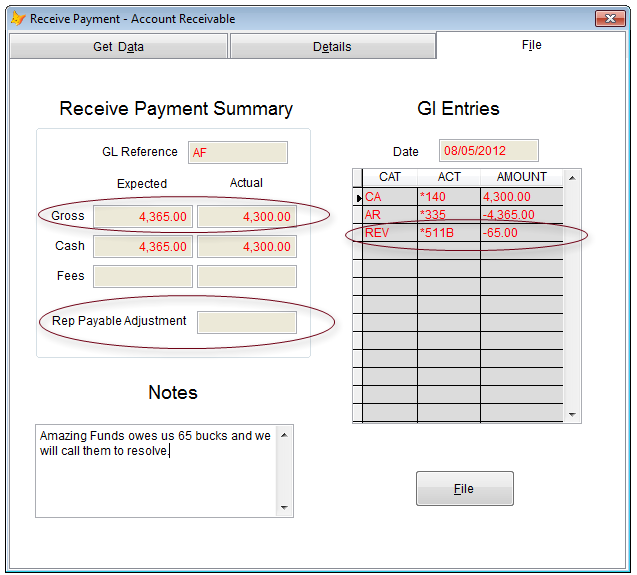 BDOS did a bunch of things while the user simply indicated the trades that were paid.
Based upon the trades that were reconciled, BDOS expected $4,365.00.  But, only $4,300.00 was received.  As such, BDOS posted $4,300.00 to cash and reduced your receivables by $4,365.00.  As of 08/05/12 you have no receivables from Amazing funds.
Your records show you expected another $65.00.  Since you did not receive the money, BDOS made an automatic revenue adjustment of $65.00.
If something was incorrect in the original posting of the trade, you can correct the gross (commission) or rep payout while receiving payment.  BDOS will automatically adjust the original revenue amount and change to the rep payout.
You Pay the Reps
The next step is to pay the reps.  Just like Receive Payment, BDOS makes paying the reps a fast and easy process.  You enter the current date, the pay period ending date and tell BDOS to "Get Data".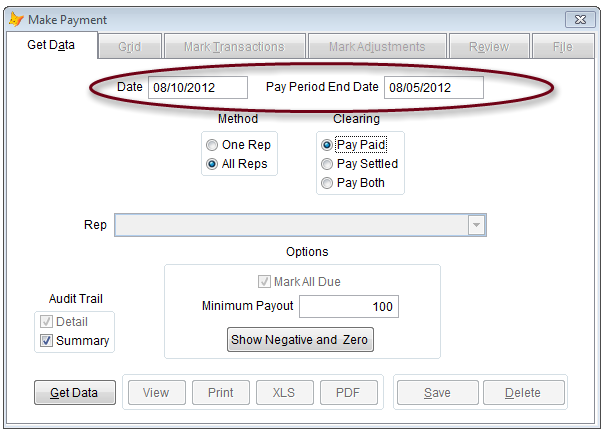 Details are shown for all the trades that are ready for payment.  Trade reference 10019, the George W. Bush trade for 100 ABC @ $18.00 appears below.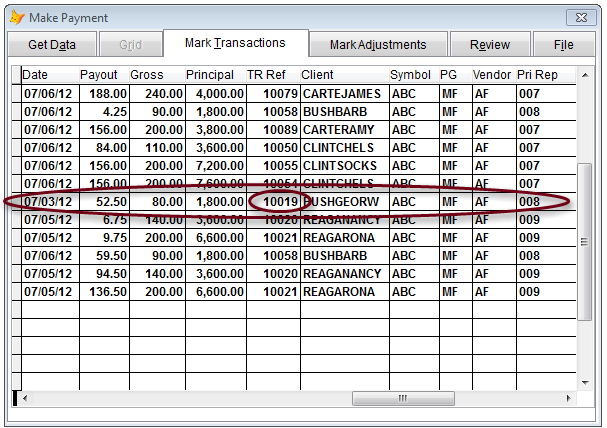 Before filing, review the total payout, trade payouts and non trade adjustments.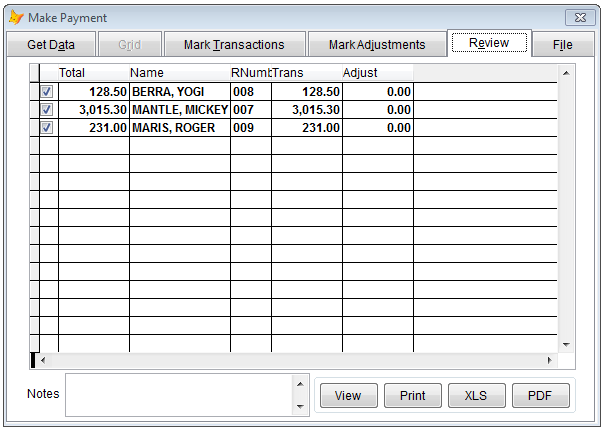 If the numbers look OK, go to the File tab, file the data and the payout process is done.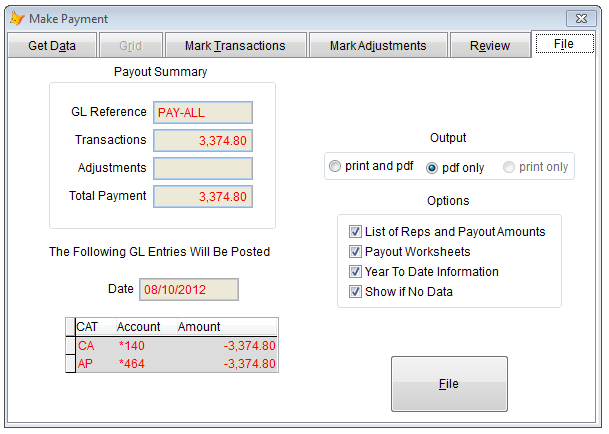 You Produce the Monthly Financials
The trades were recorded, you received payment and paid the reps.  BDOS made the process easy.  Now you produce the monthly financial statements.  Indicate the month end date and click the "Close Month" button.  In seconds you produce the Trial Balance, Balance Sheet and Income Statement.
You can also generate a Profit and Loss Statement for any date range.

You Produce the Quarterly Reports:  FOCUS IIA and SSOI
Quarterly reports are as easy as the monthly financials.  Tell BDOS the month ending and number of months in the report.
The FOCUS IIA and SSOI are created in seconds.
The final step is to run the IIA-SSOI Cross Check Critical Values Report which compares values from the FOCUS Statement of Income (page 5) to corresponding fields of the Supplemental Statement.  Some values must be identical and others should.  The report shows:
When no values are found in the cross check difference column you can be confident your reports are in order and ready to be filed.
Reduced Costs
Now you can understand how BDOS and BDOS-FINOP Services enhances your back office operations.  Through improved methods and efficiency you reduce costs.  You, with the help of BDOS, do all the heavy lifting.  As a result we can offer extremely competitive pricing for outsourced FINOP services.
BDOS has provided precision results to broker dealers since 1989. Three of our current clients have used BDOS for over 25 years.
We invite you to tour our site and our sister site, BDOS.  To arrange for a demo presentation fill out the demo request form or call us at 919-321-0716, arrange a demo presentation.